Service Training Centre is committed to impart invaluable Automotive Maintenance and repair training to manpower of Channel Partners (both Domestic and International), Fleet Owners, Private Customers and Institutional Customers such as Defence establishments, Paramilitary forces, Police Depts., State Transport Units and other Govt. agencies.
Training is also given to our Senior Executives, Field Staff, Trainees and Apprentices for upgrading & enhancing their technical knowledge, soft skills & skills for existing as well as future products to ensure total customer satisfaction.
The Training Centres also conduct training programs for various other divisions (Sales, Quality, Legal, Production, etc.) as per their specific need & requirement.
Training is also given to private garages to ensure our products are well supported in remote areas.
Internal
All Services Field Staff (Managers, Engineers, Supervisors)
Trainees/ Apprentice
Senior Management & Executive Staff of Customer Care. (Spares, Recon, AMC etc.)
Other plant employees
Staff from Head Office, Sales, Legal Cell, Auditors
External
Channel Partners workforce (Works Manager, Supervisor, Service Advisor, Mechanic, Electrician, and Warranty Supervisor)
Vendors and Suppliers
Army, Paramilitary forces, Police, Govt. Institutions
Technical Institutes
Institutional Customers, Fleet Owners
State Transport Unites (Bus Depots)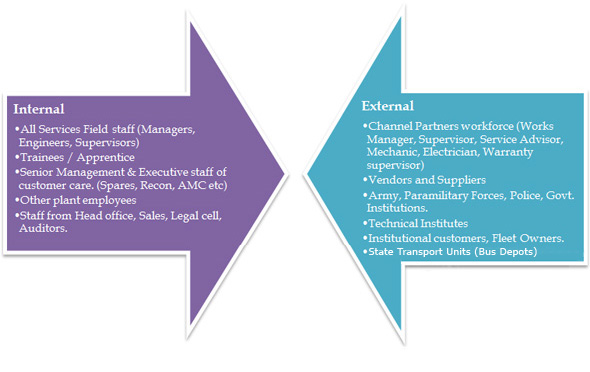 To achieve these objectives, Customer Support Division has 5 training centres located at Pune, Jamshedpur, Lucknow, Pantnagar and Dharwad. All our Training Centres are well equipped with Modern class rooms, fully functional amenities, Training aggregates, Live working models, Cut sections, Simulation board, Display boards, e-learning, libraries etc.
Our 5 Service Training Centres and One RTC are listed below: